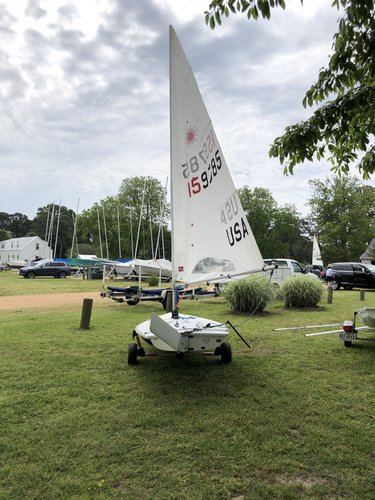 Saturday gave us probably the nicest weather we've had in a long time for an opening day for the One Design Division at FBYC. 6 Lasers sailed 5 races in a breeze that built from 8 to 15+ knots under partly cloudy skies. Junior Finn Ciszeweski sailed a standard rig sail for the first time and was very fast downwind and competitive all the way around the course. Dave Tabor joined the club this spring and was sailing his first Laser regatta at the club – welcome to the fleet! Guests Trip Ivey and Britt Drake made the trip from Richmond and VA Beach to join us for the day. Mike Toms executed his signature move by port tacking the fleet on the start of the 3rd race and mixed things up at the front of the pack.  Finn's speed downwind and Jon Deutsch's speed upwind made for a number of lead changes with Jon prevailing in enough of the races to take the day.  Finn finished 2nd overall and Dave Tabor was 3rd.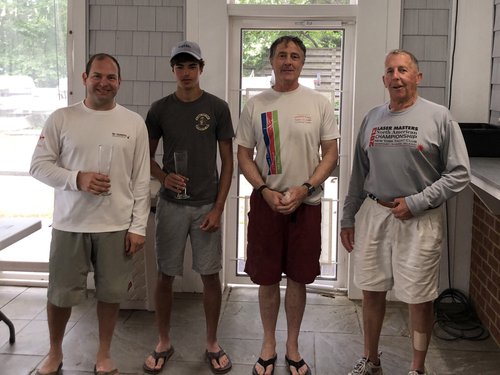 Thanks to Glenn & Becca Doncaster for heading up the RC and thanks to all of the folks helping them out.
Laser (8 boats)
Series Standing – 5 races scored
Information is final.
Regatta results last updated: Saturday, May 11, 2019 2:13:39 PM CDT
Click on race number to view detailed race information.
| | | | | | | | | | | | |
| --- | --- | --- | --- | --- | --- | --- | --- | --- | --- | --- | --- |
| Pos | Sail | Boat | Skipper | Yacht Club |  1 |  2 |  3 |  4 |  5 | Total | Pos |
| 1 | 159785 | Backspace | Jon Deutsch | Fishing Bay YC | 1 | 2 | 1 | 1 | 1 | 6   | 1 |
| 2 | 166915 | | Andrew Ciszewski | fishing bay yacht club | 2 | 1 | 2 | 3 | 2 | 10   | 2 |
| 3 | 178610 | Laser | David Tabor | FBYC | 3 | 5 | 6 | 4 | 4 | 22   | 3 |
| 4 | 204771 | Pew | Trip Ivey | N/a | 4 | 4 | 5 | 5 | 5 | 23   | 4 |
| 5 | 111111 | | Michael Toms | FBYC | 9/DNS | 9/DNS | 3 | 2 | 3 | 26   | 5 |
| 6 | 204415 | Laser | Britt Drake | MRYC | 9/DNS | 3 | 4 | 9/DNS | 9/DNS | 34   | 6 |
| 7 | 150025 | Nada | Ronald Jenkins,sr | FBYC | 9/DNS | 9/DNC | 9/DNC | 9/DNC | 9/DNC | 45T   | 7 |
| 7 | 197618 | | Jackson Montague | FBYC | 9/DNS | 9/DNC | 9/DNC | 9/DNC | 9/DNC | 45T   | 7 |