The ILCA Summer Regatta I on Saturday saw beautiful weather – mostly sunny with winds starting around 12 and building to about 15-16 knots out of the south west. We had 14 boats with 9 ILCA 7 (Standard) and 4 ILCA 6 (Radial) all starting on the same line making things more fun with more boats to race with around the course. Some of the Radial sailors were really fast and were nearby and beating many of the standards around the course. It kept things interesting at mark roundings.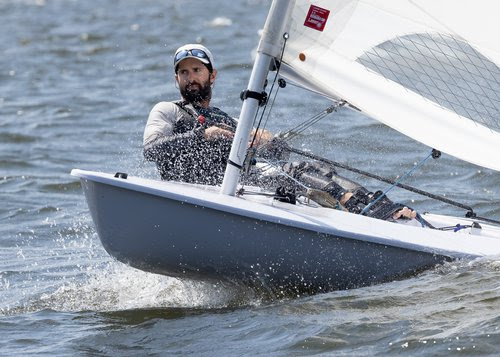 FBYC's junior coach for the summer, Francisco Renna, put on a clinic in the ILCA 7 (standard) fleet. He was fast all the way around the course and nobody came close to him in all 5 races. Rob Whittemore sailed consistently fast and consistently in the right spot to stay just ahead of Jon Deutsch and Luke Hayes who tied for 3rd place with the tiebreaker going to Luke.
Josh Bendura topped the ILCA 6 (Radial) fleet winning 3 out of 5 races. He was followed by Jordan Bendura and Logan Hayes.
David Hinkle and the RC did a great job keeping the course square getting us started cleanly. Photos thanks to Paul Almany.
The next ILCA race at FBYC is the 82nd Annual One Design Regatta August 14-15 followed by the ILCA Summer Regatta the following Sunday.
RESULTS | PICTURES by Paul Almany
Laser (9 boats) (top)
Series Standing – 5 races scored
Information is final.
Regatta results last updated: Saturday, July 17, 2021 3:53:28 PM CDT
Click on race number to view detailed race information.
Pos
Sail
Boat
Skipper
Yacht Club
1
2
3
4
5
Total
Pos
1
158718
Muñeca
Francisco Renna
FBYC/CVB
1
1
1
1
1
5
1
2
152940
Socially Distant
Robert Whittemore
Fishing Bay YC
3
2
2
2
3
12
2
3
200622
Luke Hayes
FBYC
2
4
4
7
2
19T
3
4
159785
Backspace
Jon Deutsch
Fishing Bay YC
4
5
3
3
4
19T
4
5
158670
Ron Thompson
HRLF
8
3
5
5
7
28
5
6
195478
Vintage NADS
Mike Moore
DGYC
5
6
7
6
5
29
6
7
160969
pew
Trip Ivey
n/a
7
7
6
4
6
30
7
8
755
Pris
Holly Sears
FBYC
6
8
8
9
10/DNS
41
8
9
203751
AMF
Britt Drake
MRYC , FBYC , Laser Fleet 12
10/DNS
9
9
8
8
44
9