High water and impassible roads couldn't keep the Laser Masters from sailing this weekend.  Extremely high tides due to a harvest moon and a Nor'easter off the coast made Fishing Bay Road nearly impassible in 6-8+ inches of water at times. The road and Fishing Bay dock were still underwater at some of the low tides over the weekend.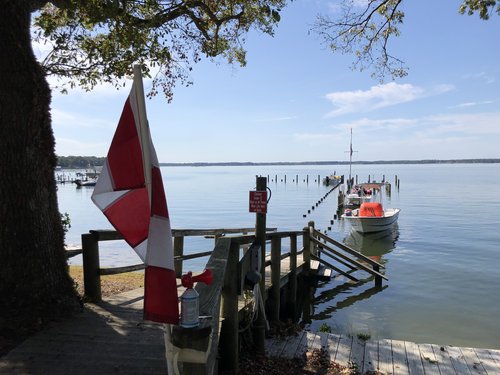 On Saturday everyone arrived plenty early ahead of the mid-morning high tide and rigged and waited for the right wind.  After a 2-hour postponement the wind filled in and 36 boats filed out to get in some races in the afternoon.
The wind filled in out of the SSE for 3 races with the first being won by Gavin O'Hare (Eastport YC) and the next two won by David Waiting (Severn Sailing Association)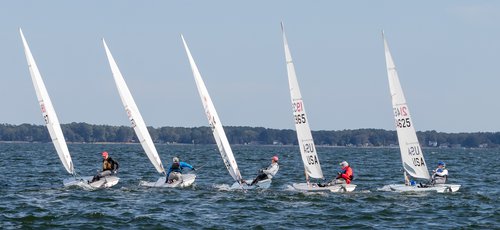 Post racing Alain and his crew served up a scrumptious meal of She Crab Soup and Virginia BBQ Baby Back Ribs.  Dinner was cut a little short by the coming high tide and the need to get through the road before it became too flooded.
With the need for everyone to arrive early to again beat the high tide and with the better wind in the morning, the first start on Sunday was moved up to the oh-so-early time of 0930. This meant being awake and in some cases beginning to rig boats before the sun was even up.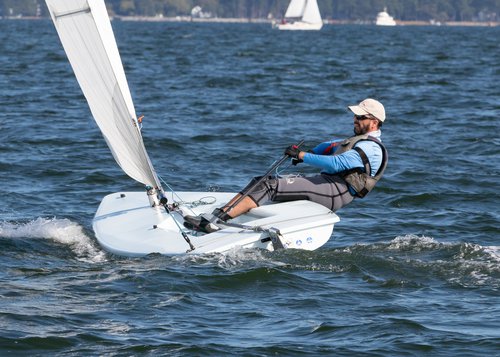 David Waiting of Severn Sailing Association – photo by Paul Almany
We made the best of it starting the first race in 16 knots of wind out of the NNE. David Waiting won the first race of the day.  As the wind shifted around and eased a bit 2 more races were run with Mike Schmidt (Magothy River SA) winning one of them and Hal Gilreath who travelled all the way from Florida winning the 3rd race.  By 1pm the wind had died and the fleet was sent in for the day.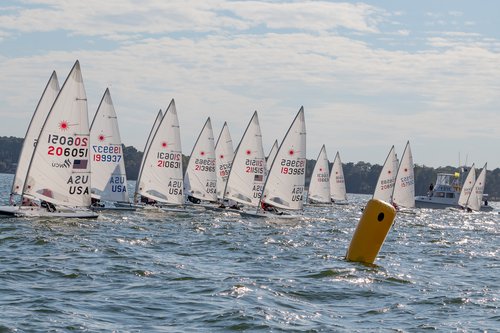 Rick Klein and his race team of Mike Dale, David Hinckle, Becky Dale, Ruthana Jenkins, David Clark, Brad Miller, Mosby West, Debbie Cycotte, John Wake, Paul Almany, Sharon Bauer and a few others did a first rate job getting the fleet sailing when there was wind and off the water when there wasn't. Every weather leg required a course change and they anticipated it every time.
Alain, James, Ron, Frank, and Don all helped in the kitchen for another marvelous meal while Britt Drake was instrumental in getting breakfast served and serving up Sunbirds as cocktail hour.
Congratulations to first time winner of the Chesapeake Bay Laser Masters Championship – David Waiting.  As an Apprentice Master David was given 3 points a race handicap and able to consistently finish in the top 3 every race to narrowly beat out Master Gavin O'Hare and Grand Master James Jacob (Severn Sailing Assn).  Top woman was Susan Taylor (Severn Sailing Assn).

Overall Winner: David Waiting, Severn Sailing Association
1st Woman: Susan Taylor, Severn Sailing Association
1st Great Grand Master: Don Hahl, Brant Beach YC
2nd Great Grand Master: Jim Knab, Rohoboth Bay SA
1st Grand Master: James Jacob, Severn Sailing Association
2nd Grand Master: Hal Gilreath, Florida
1st Master: Gavin Ohare, Eastport Yacht Club
2nd Master: Derek Fernon
1st Apprentice Master: David Waiting, Severn Sailing Association
2nd Apprentice Master: Luke Shingledecker, Severn Sailing Association
38th Chesapeake Bay Laser Masters Championship
Fishing Bay Yacht Club | October 12-13, 2019
Laser
(36 boats)

Series Standing – 6 races scored
Information is final.
Regatta results last updated: Sunday, October 13, 2019 12:01:54 PM CDT
Click on race number to view detailed race information.
| | | | | | | | | | | | | | | | |
| --- | --- | --- | --- | --- | --- | --- | --- | --- | --- | --- | --- | --- | --- | --- | --- |
| Pos | Sail   | Boat   | Skipper | Yacht Club | |  1  |  2  |  3  |  4  |  5  |  6  | | Total | W/ Masters Handicap | Pos |
| | 214620   |    | David Waiting [Apprentice Master]   | Severn Sailing Association   | | [3]   | 1   | 1   | 1   | 2   | 3   | | 8   | 23   | |
| | 92   |    | Gavin OHare [Master]   | Eastport YC   | | 1   | 2   | 4   | 5   | [13]   | 2   | | 14   | 24   | |
| | 194620   |    | James Jacob [Grand Master]   | SSA   | | 11   | 6   | 2   | 4   | 3   | [19]   | | 26   | 31   | |
| | 195125   |    | Hal Gilreath [Grand Master]   | Florida   | | 5   | 10   | [13]   | 8   | 6   | 1   | | 30   | 35   | |
| | 121384   |    | Mike Schmidt [Grand Master]   | Magothy River Sailing Association   | | 12   | 11   | 6   | 3   | 1   | [37/OCS]   | | 33   | 38   | |
| | 210631   | Laser   | Don Hahl [Great Grand Master]   | Brant Beach YC   | | 9   | 8   | 5   | 10   | 8   | [15]   | | 40   | 40   | |
| | 198025   | Heart Attack and Vine   | Luke Shingledecker [Apprentice Master]   | Severn Sailing Association   | | 7   | 7   | [8]   | 2   | 4   | 5   | | 25   | 40   | |
| | 199937   |    | Len Guenther [Grand Master]   | FBYC   | | 10   | 3   | 7   | 11   | 5   | [24]   | | 36   | 41   | |
| | 215722   |    | Scott Williamson [Apprentice Master]   | Severn Sailing Association   | | 4   | 4   | 3   | 6   | 9   | [12]   | | 26   | 41   | |
| | 156631   |    | Eric Johnson [Grand Master]   | Severn Sailing Association   | | 6   | 9   | 12   | [17]   | 10   | 9   | | 46   | 51   | |
| | 159785   | No Quarter   | Jon Deutsch [Apprentice Master]   | Fishing Bay YC   | | 2   | 5   | [16]   | 9   | 12   | 8   | | 36   | 51   | |
| | 195478   | Vintage NADS   | Michael Moore [Grand Master]   | DGYC   | | [18]   | 12   | 9   | 12   | 7   | 7   | | 47   | 52   | |
| | 182850   |    | Peter Ill [Grand Master]   | Hampton Yacht Club   | | 8   | 15   | 14   | [16]   | 11   | 16   | | 64   | 69   | |
| | 180524   | Full Circle   | Susan Taylor [Grand Master]   | SSA   | | 15   | 20   | [23]   | 13   | 14   | 4   | | 66   | 71   | |
| | 203955   | Sierra Whiskey Foxtrot   | Dorian Haldeman [Apprentice Master]   | Severn Sailing Association   | | [20]   | 17   | 17   | 7   | 15   | 13   | | 69   | 84   | |
| | 206135   |    | Natalie Burls [Apprentice Master]   | Severn Sailing Association   | | 13   | 13   | 10   | 15   | 19   | [22]   | | 70   | 85   | |
| | 211515   | Boat   | Michael Toms [Grand Master]   | Fishing Bay Yacht Club   | | 26   | 21   | 15   | 14   | [29]   | 14   | | 90   | 95   | |
| | 193965   |    | Jim Knab [Great Grand Master]   | Rehoboth Bay SA   | | 22   | 25   | 21   | [26]   | 25   | 6   | | 99   | 99   | |
| | 199142   | Last One   | Newton Wattis [Great Grand Master]   | Surf City YC   | | 16   | 16   | 27   | [32/ZFP]   | 26   | 17   | | 102   | 102   | |
| | 214625   | Blue Meanie   | Steven Cofer [Great Grand Master]   | SSA   | | 17   | [26]   | 20   | 22   | 23   | 21   | | 103   | 103   | |
| | 200144   | Dixie Rocket   | Alain Vincey [Great Grand Master]   | Fishing Bay YC   | | 25   | 28   | [37/DNS]   | 23   | 22   | 11   | | 109   | 109   | |
| | 184116   |    | Derek Fernon [Master]   | Williamson's Laser Squadron   | | 19   | 14   | 11   | [37/RET-BF]   | 21   | 37/OCS   | | 102   | 112   | |
| | 180543   | LaserRay   | raymond flynn [Great Grand Master]   | CSC   | | [31]   | 30   | 29   | 18   | 17   | 23   | | 117   | 117   | |
| | 209698   |    | Rob Emmet [Grand Master]   | Storm Trysail   | | 23   | 18   | 18   | [37/OCS]   | 27   | 27   | | 113   | 118   | |
| | 213965   | Frozone   | Michael Colbert [Master]   | SSA   | | [30]   | 22   | 24   | 20   | 18   | 25   | | 109   | 119   | |
| | 204415   | AMF   | Britt Drake [Great Grand Master]   | MRYC /Laser Fleet 12 / FBYC   | | 28   | [37/OCS]   | 25   | 21   | 20   | 26   | | 120   | 120   | |
| | 206051   | #4   | Chad Patton [Master]   | NA   | | 21   | 27   | [28]   | 28   | 16   | 18   | | 110   | 120   | |
| | 157552   | Light Smoke   | William Murphy [Great Grand Master]   | FBYC   | | 27   | [31]   | 30   | 19   | 24   | 28   | | 128   | 128   | |
| | 205445   |    | Natalya Gontcharova [Master]   | CPYC   | | 24   | 19   | 22   | 24   | 32   | [37/RET-BF]   | | 121   | 131   | |
| | 178610   |    | David Tabor [Grand Master]   | FBYC   | | [33]   | 23   | 26   | 29   | 30   | 20   | | 128   | 133   | |
| | 191967   | Cobia   | Jeffrey Moore [Master]   | SMSA   | | 14   | 24   | 19   | [37/DNS]   | 37/DNS   | 37/OCS   | | 131   | 141   | |
| | 186519   | Pony   | CHRISTINE POTTS [Apprentice Master]   | SSA, BTYC   | | [32]   | 32   | 32   | 31   | 28   | 10   | | 133   | 148   | |
| | 150077   | Spray   | Ronald Jenkins [Great Grand Master]   | FBYC   | | 34   | 33   | [37/DNF]   | 37/DNS   | 33   | 29   | | 166   | 166   | |
| | 208589   |    | Katherine Martin [Apprentice Master]   | Potomac River Sailing Association   | | 29   | 29   | 31   | 30   | [34]   | 32   | | 151   | 166   | |
| | 203751   | None   | Frank Patch jr [Grand Master]   | CCV (Cruising club of Virginia)   | | [37/DNS]   | 37/DNS   | 37/DNS   | 27   | 31   | 30   | | 162   | 167   | |
| | 215467   | Truly Scrumptious   | Margaret Patterson [Master]   | FBYC   | | 35   | 34   | 33   | [37/DNS]   | 35   | 31   | | 168   | 178   | |